About Us
Carlos Pizza is a Pizza takeaway in Cardiff. Why don't you try our Pizza Deal 7 or Ben & Jerry's 500ml?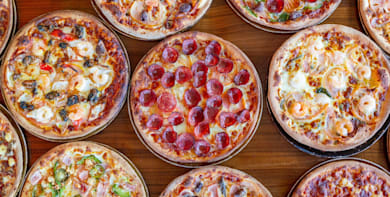 Reviews
233 reviews
Farjana
"It's ok I understand that they were busy"
06/05/2021
Emily
"Delicious food and well presented. Delivery on time. Recommend 👍"
06/05/2021
Jamie
"Phenomenal bit of grub, yet again. Different gravy these lads, they'll sort you right out with some banging scoff no problem 👌"
02/05/2021
Paul
"Great tasting tropical kebabs"
23/04/2021
Menu
Topping Spicy Minced Lamb
1st Pizza Topping Anchovies
1st Pizza Topping Black Olives
1st Pizza Topping Donner Meat
1st Pizza Topping Green Chillies
1st Pizza Topping Green Pepper
1st Pizza Topping Jalapeno
1st Pizza Topping Mushrooms
1st Pizza Topping Pepperoni
1st Pizza Topping Pineapple
1st Pizza Topping Plain Chicken
1st Pizza Topping Slice of Tomato
1st Pizza Topping Spicy Beef
1st Pizza Topping Spicy Minced Lamb
1st Pizza Topping Sweetcorn
1st Pizza Topping Tandoori Chicken
2nd Pizza Topping Anchovies
2nd Pizza Topping Black Olives
2nd Pizza Topping Donner Meat
2nd Pizza Topping Green Chillies
2nd Pizza Topping Green Pepper
2nd Pizza Topping Jalapeno
2nd Pizza Topping Mushrooms
2nd Pizza Topping Pepperoni
2nd Pizza Topping Pineapple
2nd Pizza Topping Plain Chicken
2nd Pizza Topping Slice of Tomato
2nd Pizza Topping Spicy Beef
2nd Pizza Topping Spicy Minced Lamb
2nd Pizza Topping Sweetcorn
2nd Pizza Topping Tandoori Chicken
Spice Delight Chicken Kebab - Large
Grilled chicken kebab with green peppers, onions & jalapenos
£5.50
Spice Delight Donner Kebab - Large
Grilled donner kebab with green peppers, onions & jalapenos
£5.50
Kebab Meat & Chips Medium
£4.50
Mixed Spice Delight Kebab - Large
£7.50
Mixed Tropical Kebab - Large
£7.50
Tropical Chicken Kebab - Large
Grilled chicken kebab with mushrooms, onions & pineapple
£5.50
Tropical Donner Kebab - Large
Grilled donner kebab with mushrooms, onions & pineapple
£5.50
Vegetarian Burger Half Pounder
£3.00
Vegetarian Burger Quarter Pounder
£2.50
Tropical Burger Half Pounder
Grilled mushroom, onion with cheese
£3.90
Tropical Burger Quarter Pounder
Grilled mushroom, onion with cheese
£3.20
Cheeseburger Half Pounder
£3.70
Cheeseburger Quarter Pounder
£2.60
Beef Burger Quarter Pounder
£2.50
Chicken Burger Half Pounder
£3.70
Chicken Burger Quarter Pounder
£2.50
Hawaiian Burger Half Pounder
Cheese & pineapple
£3.90
Hawaiian Burger Quarter Pounder
Cheese & pineapple
£3.20
Kids Deal 1
Cheeseburger, chips & drink
£3.00
Kids Deal 2
4 Pieces chicken nuggets, chips & drink
£3.00
Kids Deal 3
Donner OR chicken kebab, chips & drink
£3.50
Hawaiian Pizza 10" Medium
Ham, mushroom & pineapple
£7.00
Hawaiian Pizza 12" Large
Ham, mushroom & pineapple
£8.00
Hawaiian Pizza 14" X-Large
Ham, mushroom & pineapple
£10.00
Grill Pizza 10" Medium
Chicken, mushrooms, pineapple, green pepper & onion
£7.00
Grill Pizza 12" Large
Chicken, mushrooms, pineapple, green pepper & onion
£9.00
Grill Pizza 14" X-Large
Chicken, mushrooms, pineapple, green pepper & onion
£11.00
Hot & Spicy Pizza 10" Medium
Spicy chicken, onion, green pepper & green chillies
Hot
£7.00
Hot & Spicy Pizza 12" Large
Spicy chicken, onion, green pepper & green chillies
Hot
£9.00
Hot & Spicy Pizza 14" X-Large
Spicy chicken, onion, green pepper & green chillies
Hot
£11.00
Meat Feast Pizza 10" Medium
Pepperoni, ham, tandoori chicken & beef
£7.00
Meat Feast Pizza 12" Large
Pepperoni, ham, tandoori chicken & beef
£9.00
Meat Feast Pizza 14" X-Large
Pepperoni, ham, tandoori chicken & beef
£11.00
Miami Dolphin Pizza 10" Medium
Tuna, onion & sweetcorn
£7.00
Miami Dolphin Pizza 12" Large
Tuna, onion & sweetcorn
£9.00
Miami Dolphin Pizza 14" X-Large
Tuna, onion & sweetcorn
£10.00
Boston Beef Pizza 10" Medium
Green peppers, mushrooms, spicy beef, mince lamb, salami, pepperoni, ham, green chillies & onion
Hot
£8.00
Boston Beef Pizza 12" Large
Green peppers, mushrooms, spicy beef, mince lamb, salami, pepperoni, ham, green chillies & onion
Hot
£12.00
Boston Beef Pizza 14" X-Large
Green peppers, mushrooms, spicy beef, mince lamb, salami, pepperoni, ham, green chillies & onion
Hot
£14.00
Bucking Bronco Pizza 10" Medium
Mince lamb, spicy beef, onion & green chillies
£7.00
Bucking Bronco Pizza 12" Large
Mince lamb, spicy beef, onion & green chillies
£9.00
Bucking Bronco Pizza 14" X-Large
Mince lamb, spicy beef, onion & green chillies
£11.00
All American Pizza 10" Medium
Ham, mince lamb, green pepper & onion
£7.00
All American Pizza 12" Large
Ham, mince lamb, green pepper & onion
£9.00
All American Pizza 14" X-Large
Ham, mince lamb, green pepper & onion
£11.00
BBQ Dream Pizza 10" Medium
Mushroom, ham, sweetcorn & chicken tikka with BBQ sauce
£7.00
BBQ Dream Pizza 12" Large
Mushroom, ham, sweetcorn & chicken tikka with BBQ sauce
£9.00
BBQ Dream Pizza 14" X-Large
Mushroom, ham, sweetcorn & chicken tikka with BBQ sauce
£11.00
Carlos Special Pizza 10" Medium
Pepperoni, ham, sausage, mushrooms, onion, green pepper, pineapple, olives & sweetcorn
£8.00
Carlos Special Pizza 12" Large
Pepperoni, ham, sausage, mushrooms, onion, green pepper, pineapple, olives & sweetcorn
£12.00
Carlos Special Pizza 14" X-Large
Pepperoni, ham, sausage, mushrooms, onion, green pepper, pineapple, olives & sweetcorn
£14.00
Cheese & Tomato Pizza 10" Medium
£5.00
Cheese & Tomato Pizza 12" Large
£6.00
Cheese & Tomato Pizza 14" X-Large
£8.00
Chicago Bear Pizza 10" Medium
Pepperoni, mushrooms, green pepper & onion
£7.00
Chicago Bear Pizza 12" Large
Pepperoni, mushrooms, green pepper & onion
£9.00
Chicago Bear Pizza 14" X-Large
Pepperoni, mushrooms, green pepper & onion
£11.00
Surprise Me!!! Pizza 10" Medium
£7.00
Surprise Me!!! Pizza 12" Large
£9.00
Surprise Me!!! Pizza 14" X-Large
£10.00
Vegetarian Pizza 10" Medium
Mushrooms, sweetcorn, green pepper & onion
Veg
£7.00
Vegetarian Pizza 12" Large
Mushrooms, sweetcorn, green pepper & onion
Veg
£9.00
Vegetarian Pizza 14" X-Large
Mushrooms, sweetcorn, green pepper & onion
Veg
£11.00
Meat Feast Calzone
Stuffed with pepperoni, ham, chicken & spicy beef
£4.00
Hot & Spicy Calzone
Stuffed with pepperoni, spicy beef, chilli, onion & green peppers
£4.00
Folded Calzone
Stuffed with lamb donner kebab
£5.70
Folded Mixed Kebab Calzone
Stuffed with mixed kebab
£6.50
BBQ Calzone
Stuffed with BBQ base, chicken, red onions, green peppers & mushroom
£4.00
Veggi Calzone
Stuffed with mushrooms, red onion, sweetcorn & green peppers
£4.00
Pizza Deal 1
Medium pizza with 4 toppings, coleslaw, chips, salad & can of soft drink
£9.00
Pizza Deal 2
Large pizza with 4 toppings, 1 medium donner OR chicken kebab, chips & 2 cans of soft drink
£13.00
Pizza Deal 3
Large pizza with 4 toppings, garlic bread with cheese, coleslaw, chips, salad & 2 cans of soft drink
£12.00
Pizza Deal 4
2 Medium pizzas with 4 toppings, garlic bread with cheese, coleslaw, chips, salad & 2 cans of soft drink
Please write your chosen salad & 2 cans of drinks in the comments box
£15.00
Pizza Deal 5
Extra large pizza with 4 toppings, garlic bread with cheese, coleslaw, chips, salad & 2 cans of soft drink
£14.00
Pizza Deal 6
2 Extra large pizza with 4 toppings, garlic bread with cheese, 2 coleslaw, 2 chips, salad & 3 cans of soft drink
Please write your chosen salad & 3 cans of drinks in the comments box
£23.00
Pizza Deal 7
Medium pizzas with 4 toppings, 2 wraps (Chicken OR donner kebab), chips & 2 cans of soft drink
£14.00
Pizza Deal 8
2 Large pizzas with 4 toppings, 2 chips, 2 coleslaws & 2 cans of soft drink
Please write your chosen 2 cans of drinks in the comments box
£18.00
Mixed Wrap
Chicken & donner kebab
£4.00
Contact Us
Find Us
20 West Bute Street, Cardiff, CF105EP
We deliver to
CF10, CF11, CF24