About Us
Carlos Pizza is a Pizza takeaway in Cardiff. Why don't you try our Pizza Deal 7 or Ben & Jerry's 500ml?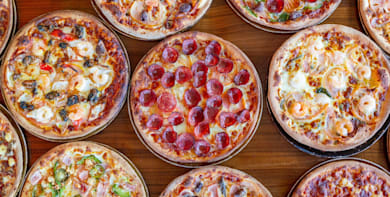 Reviews
238 reviews
Dominic
"Really nice pizza, one of the best I've had in Cardiff."
19/06/2021
Abdolkarem
"Quality food"
12/06/2021
Steve
"The food is always really nice, we keep coming back!"
12/06/2021
Marita
"The food was absolutely amazing 10 out of 10"
06/06/2021
Menu
Pizza Deal 1
Medium pizza with 4 toppings, coleslaw, chips, salad & can of soft drink
£9.00
Pizza Deal 2
Large pizza with 4 toppings, 1 medium donner OR chicken kebab, chips & 2 cans of soft drink
£13.00
Pizza Deal 3
Large pizza with 4 toppings, garlic bread with cheese, coleslaw, chips, salad & 2 cans of soft drink
£12.00
Pizza Deal 4
2 Medium pizzas with 4 toppings, garlic bread with cheese, coleslaw, chips, salad & 2 cans of soft drink
Please write your chosen salad & 2 cans of drinks in the comments box
£15.00
Pizza Deal 5
Extra large pizza with 4 toppings, garlic bread with cheese, coleslaw, chips, salad & 2 cans of soft drink
£14.00
Pizza Deal 6
2 Extra large pizza with 4 toppings, garlic bread with cheese, 2 coleslaw, 2 chips, salad & 3 cans of soft drink
Please write your chosen salad & 3 cans of drinks in the comments box
£23.00
Pizza Deal 7
Medium pizzas with 4 toppings, 2 wraps (Chicken OR donner kebab), chips & 2 cans of soft drink
£14.00
Pizza Deal 8
2 Large pizzas with 4 toppings, 2 chips, 2 coleslaws & 2 cans of soft drink
Please write your chosen 2 cans of drinks in the comments box
£18.00
Cheese & Tomato Pizza 10" Medium
£5.00
Cheese & Tomato Pizza 12" Large
£6.00
Cheese & Tomato Pizza 14" X-Large
£8.00
Surprise Me!!! Pizza 10" Medium
£7.00
Surprise Me!!! Pizza 12" Large
£9.00
Surprise Me!!! Pizza 14" X-Large
£10.00
Hawaiian Pizza 10" Medium
Ham, mushroom & pineapple
£7.00
Hawaiian Pizza 12" Large
Ham, mushroom & pineapple
£8.00
Hawaiian Pizza 14" X-Large
Ham, mushroom & pineapple
£10.00
BBQ Dream Pizza 10" Medium
Mushroom, ham, sweetcorn & chicken tikka with BBQ sauce
£7.00
BBQ Dream Pizza 12" Large
Mushroom, ham, sweetcorn & chicken tikka with BBQ sauce
£9.00
BBQ Dream Pizza 14" X-Large
Mushroom, ham, sweetcorn & chicken tikka with BBQ sauce
£11.00
Miami Dolphin Pizza 10" Medium
Tuna, onion & sweetcorn
£7.00
Miami Dolphin Pizza 12" Large
Tuna, onion & sweetcorn
£9.00
Miami Dolphin Pizza 14" X-Large
Tuna, onion & sweetcorn
£10.00
Bucking Bronco Pizza 10" Medium
Mince lamb, spicy beef, onion & green chillies
£7.00
Bucking Bronco Pizza 12" Large
Mince lamb, spicy beef, onion & green chillies
£9.00
Bucking Bronco Pizza 14" X-Large
Mince lamb, spicy beef, onion & green chillies
£11.00
Vegetarian Pizza 10" Medium
Mushrooms, sweetcorn, green pepper & onion
Veg
£7.00
Vegetarian Pizza 12" Large
Mushrooms, sweetcorn, green pepper & onion
Veg
£9.00
Vegetarian Pizza 14" X-Large
Mushrooms, sweetcorn, green pepper & onion
Veg
£11.00
Chicago Bear Pizza 10" Medium
Pepperoni, mushrooms, green pepper & onion
£7.00
Chicago Bear Pizza 12" Large
Pepperoni, mushrooms, green pepper & onion
£9.00
Chicago Bear Pizza 14" X-Large
Pepperoni, mushrooms, green pepper & onion
£11.00
All American Pizza 10" Medium
Ham, mince lamb, green pepper & onion
£7.00
All American Pizza 12" Large
Ham, mince lamb, green pepper & onion
£9.00
All American Pizza 14" X-Large
Ham, mince lamb, green pepper & onion
£11.00
Hot & Spicy Pizza 10" Medium
Spicy chicken, onion, green pepper & green chillies
Hot
£7.00
Hot & Spicy Pizza 12" Large
Spicy chicken, onion, green pepper & green chillies
Hot
£9.00
Hot & Spicy Pizza 14" X-Large
Spicy chicken, onion, green pepper & green chillies
Hot
£11.00
Meat Feast Pizza 10" Medium
Pepperoni, ham, tandoori chicken & beef
£7.00
Meat Feast Pizza 12" Large
Pepperoni, ham, tandoori chicken & beef
£9.00
Meat Feast Pizza 14" X-Large
Pepperoni, ham, tandoori chicken & beef
£11.00
Grill Pizza 10" Medium
Chicken, mushrooms, pineapple, green pepper & onion
£7.00
Grill Pizza 12" Large
Chicken, mushrooms, pineapple, green pepper & onion
£9.00
Grill Pizza 14" X-Large
Chicken, mushrooms, pineapple, green pepper & onion
£11.00
Carlos Special Pizza 10" Medium
Pepperoni, ham, sausage, mushrooms, onion, green pepper, pineapple, olives & sweetcorn
£8.00
Carlos Special Pizza 12" Large
Pepperoni, ham, sausage, mushrooms, onion, green pepper, pineapple, olives & sweetcorn
£12.00
Carlos Special Pizza 14" X-Large
Pepperoni, ham, sausage, mushrooms, onion, green pepper, pineapple, olives & sweetcorn
£14.00
Boston Beef Pizza 10" Medium
Green peppers, mushrooms, spicy beef, mince lamb, salami, pepperoni, ham, green chillies & onion
Hot
£8.00
Boston Beef Pizza 12" Large
Green peppers, mushrooms, spicy beef, mince lamb, salami, pepperoni, ham, green chillies & onion
Hot
£12.00
Boston Beef Pizza 14" X-Large
Green peppers, mushrooms, spicy beef, mince lamb, salami, pepperoni, ham, green chillies & onion
Hot
£14.00
Meat Feast Calzone
Stuffed with pepperoni, ham, chicken & spicy beef
£4.00
Veggi Calzone
Stuffed with mushrooms, red onion, sweetcorn & green peppers
£4.00
Hot & Spicy Calzone
Stuffed with pepperoni, spicy beef, chilli, onion & green peppers
£4.00
BBQ Calzone
Stuffed with BBQ base, chicken, red onions, green peppers & mushroom
£4.00
Folded Calzone
Stuffed with lamb donner kebab
£5.70
Folded Mixed Kebab Calzone
Stuffed with mixed kebab
£6.50
Beef Burger Quarter Pounder
£2.50
Cheeseburger Quarter Pounder
£2.60
Cheeseburger Half Pounder
£3.70
Chicken Burger Quarter Pounder
£2.50
Chicken Burger Half Pounder
£3.70
Tropical Burger Quarter Pounder
Grilled mushroom, onion with cheese
£3.20
Tropical Burger Half Pounder
Grilled mushroom, onion with cheese
£3.90
Hawaiian Burger Quarter Pounder
Cheese & pineapple
£3.20
Hawaiian Burger Half Pounder
Cheese & pineapple
£3.90
Vegetarian Burger Quarter Pounder
£2.50
Vegetarian Burger Half Pounder
£3.00
Mixed Wrap
Chicken & donner kebab
£4.00
Kebab Meat & Chips Medium
£4.50
Tropical Donner Kebab - Large
Grilled donner kebab with mushrooms, onions & pineapple
£5.50
Tropical Chicken Kebab - Large
Grilled chicken kebab with mushrooms, onions & pineapple
£5.50
Spice Delight Donner Kebab - Large
Grilled donner kebab with green peppers, onions & jalapenos
£5.50
Spice Delight Chicken Kebab - Large
Grilled chicken kebab with green peppers, onions & jalapenos
£5.50
Mixed Spice Delight Kebab - Large
£7.50
Mixed Tropical Kebab - Large
£7.50
Kids Deal 1
Cheeseburger, chips & drink
£3.00
Kids Deal 2
4 Pieces chicken nuggets, chips & drink
£3.00
Kids Deal 3
Donner OR chicken kebab, chips & drink
£3.50
Contact Us
Find Us
20 West Bute Street, Cardiff, CF105EP
We deliver to
CF10, CF11, CF24